Radon and Real Estate
Radon and real estate don't have to be in conflict. Although many homeowners, buyers, and even real estate agents seem terrified by the word "radon," you shouldn't be so scared! Yes, it is a dangerous and hazardous gas, but the simple truth is that radon is in EVERY home. The lowest—and thus safest—levels of radon are in homes with mitigation systems. Once a radon system is installed, the home will have the lowest possible levels of the gas, making it safer than homes that haven't had radon mitigation. So instead of being scared away from buying houses that have radon, real estate agents and Realtors should encourage buyers to opt for a radon mitigation system from Idaho Radon. Our systems make it easy to keep your family and house safe from this potentially harmful gas!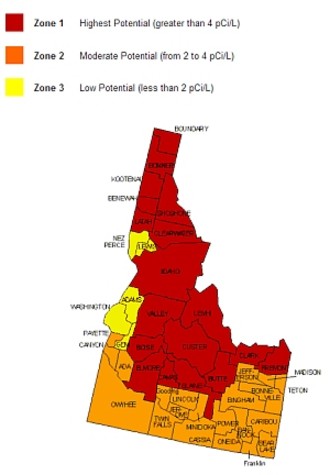 At Idaho Radon, we suggest local Realtors, buyers, and sellers approach a radon reduction system just like any other component of your home (furnaces, air conditioning, smoke detectors). These systems are in place to keep your house and family comfortable and safe. The same goes for a radon mitigation system. And, as a low-cost and long-term solution, these abatement systems are more affordable and long-lived than just about any other system in a residence. Think of radon mitigation as a long-term investment in the health and safety of your home.
So, whether you're buying or selling, it makes sense to have your building tested for radon. Idaho Radon is a great resource for both testing and radon mitigation system installation, if necessary. Don't let this gas get in the way of connecting buyers with their dream home—the problem can be effectively corrected! Let the radon contractor pros at Idaho Radon step in and help with one-stop solutions for radon testing and mitigation. Radon shouldn't intimidate buyers, sellers, or Realtors when you have Idaho Radon on your side!
If you're a homeowner trying to sell your house, don't be scared if the issue of radon comes up. Levels of this gas can be safely lowered.
If you are buying a home, a radon test is a must. A mitigation system may be necessary to keep your family safe.
If you are a Realtor, radon testing and mitigation can be helpful for both buyers and sellers.
Turn what some people could see as a negative into a major selling point for your home. We suggest that real estate agents and home sellers add information about radon mitigation systems to their real estate flyers and listings: this is a great way to approach the issue as an asset rather than a liability.
Don't forget, radon abatement systems can also help keep humidity levels low in a home, effectively providing moisture management and mold prevention. Radon mitigation systems work by trapping and venting the air from under and around your foundation or crawlspace, exhausting moisture along with the gases. This helps keep your basement dehumidified and dry, a key step in mold prevention! These benefits are yet another reason real estate agents may want to encourage clients to investigate how their home can be helped by a radon abatement system.