Radon Testing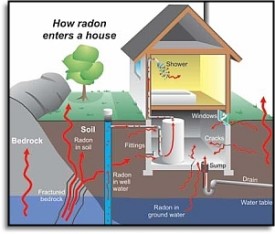 Radon testing is crucial to ensuring that your home is a safe, healthy environment for your family. A product of the breakdown of the element uranium, radon is an invisible, odorless, radioactive gas that can seep into buildings through the ground. Although it is harmless at low levels, when trapped inside, the gas accumulates, reaching dangerously concentrated levels. In fact, radon is the number 1 cause of lung cancer in nonsmokers and the number 2 cause in smokers. This gas is particularly dangerous to children because of their developing lungs. Just like your home wouldn't be safe without working smoke detectors, if you haven't had your house tested for radon, you're taking a risk!
Protecting your home from radon is easy, however. Let the professionals at Idaho Radon bring you security, safety, and peace of mind with a simple, accurate radon test. According to statewide testing done in 2005, approximately 37% of homes in Idaho have radon concentrations above the EPA recommended safe levels. That's not surprising considering that the EPA denotes much of Idaho to be a "Red Zone," their term for a geographic region where house are likely to contain dangerously high radon levels. The areas around Sun Valley, Hailey, and Ketchum have particularly high levels of radon, but that doesn't mean your home is necessarily affected. The only way to know for sure if your specific property contains excessive concentrations of this dangerous gas is to have a professional test done. Call today or send our team an e-mail to learn more about radon testing and your property!
When you trust Idaho Radon, you will enjoy an easy, hassle-free radon test process. A charcoal canister is used to collect the gas from your home, usually over the course of 48 hours with all the windows and doors kept closed. The lab then checks the collected sample to measure the concentration of radon found within your house. At that point, we'll be able to tell if radon mitigation is necessary. Unlike do-it-yourself testing kits, our professional testing services are performed by qualified radon contractors, helping ensure accurate results! That way you'll know the real levels of radon in your home and will be able to make an informed decision about whether radon abatement is necessary.
The radon testing and mitigation contractors at Idaho Radon are fully insured and licensed, and we are dedicated to improving the safety of Boise-area homes and businesses. For radon testing results you can trust, pick our professionals! Have questions? Just give us a call to learn more.